Vegetable Drying Machine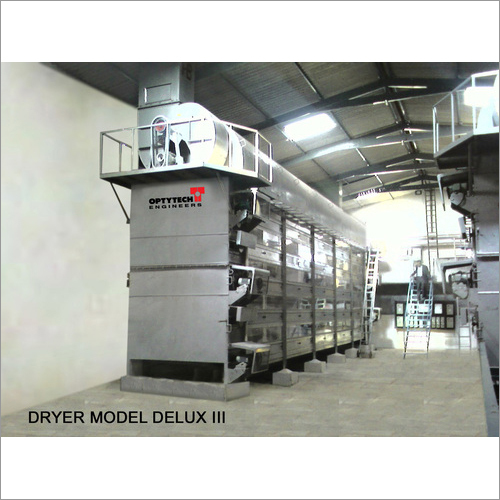 Vegetable Drying Machine
Product Description
In recent years, we have established ourselves as one of the leading manufacturers, suppliers and exporters of Vegetable Drying Machine. This machine is designed using high grade raw material in strict compliance with international standards. Owing to its quick drying process, high performance and large capacity, our machine is highly appreciated in the market. We offer this Vegetable Drying Machine in different specifications so as to meet the variegated demands of our customers.
Other information:

This is Vegetable Continuous Process Dryer. Machine construct of ms structure with all product contact part made of SS-304 and food grade PVC material.
Machine runs start from raw material feeding unit continuous feed material to dryer chamber, where material pass through heated dry air zone, one by one stage and evaporated moisture sucked through a exhaust fan to free environment.
Machine control through a electronics control panel to set deferent parameters like a heating temp, air quantity, residual time, federate, exhaust temp to set for all type of product range.
MACHINE TECHNICAL SPECIFICATION
HEAT CONSUMPTION - K CAL/HR
PRODUCT INITIAL MOISTURE -%
PRODUCT FINAL MOISTURE -%
HEATING MEDIA - THERMIC FLUID
ACTUAL ENERGY CONSUMPTION/HR
POWER- MC LOAD - ELEC UNIT/HR
POWER- HEAT EQUIP LOAD - ELEC UNIT/HR
FUEL CONSUMPTION - WOOD KG/HR (CV-2200)
ALL SPECIFICATION AND DESIGN RIGHT RESERVED-OPTYTECH.